Every beginner finds choosing a reliable web hosting for their website an uphill task. People often choose low-cost web hosting without considering uptime, speed, support, which is a foolish mistake. However, NameCheap will provide you with exceptional hosting at a competitive price.
Are you a newbie/ existing web owner looking for cheap web hosting with great features? You are in the right place. NameCheap will offer you low prices with all the things you will need.
Most people know Namecheap for cheap domain registration services. However, NameCheap is a web hosting provider as well. Unfortunately, very few people know about NameCheap, the web host. Nonetheless, today you are lucky because we will give you our expert experience from using NameCheap in this review.
General information and company overview
NameCheap is an independently owned and operated company with offices in Los Angeles. It was founded in 2000 by Richard Kirkendall.
For the first 7 years, Namecheap solely provided name registrar services. However, since 2007, they expanded to offer shared hosting.
Over the years, NameCheap has accumulated over 11 million users and registered over 10 million domains.
Let's talk about NameCheap Hosting plans and features
The same hosting plans will not work for all businesses. Namecheap has a comprehensive set of hosting options. They suggest appropriate plans based on whether you're a beginner, a small business, or a large business.
Unlike many web hosting providers, NameCheap hosting plans clearly outlines the number of visitors they will support, and the storage.
Shared hosting

Their shared plans are the cheapest ones. If you are a small/ medium-sized business, you will find this plan helpful.
You can choose any of their three packages in this plan, depending on the size of your site, the number of domains you're hosting, and traffic.
Stellar: This plan will cost you $1.44/month for the first time and renews at $2.88/month. It will allow up to 3 websites and include 30 emails with 20 GB SSD storage.
Stellar plus: With this package, you will pay $2.44/month for the first year, and renew at $4.88/month. You will host unlimited emails, and websites on unmetered storage. Besides, you enjoy an auto-backup feature.
Stellar business: This package costs $4.44/month for the first year, and renews at 8.88/month. It includes 50 GB SSD, unlimited domains, unlimited emails, and auto-backup.
Besides, it includes an e-accelerator for faster PHP performance and x-Cache for improved caching.
WordPress Hosting
| | | | | |
| --- | --- | --- | --- | --- |
| Plan | Serve type | Disk space | Bandwidth | Monthly Price |
| EasyWP | WordPress | 10 GB SSD | Unmetered | $3.88 |
| EasyWP Turbo | WordPress | 50 GB SSD | Unmetered | $7.88 |
| EasyWP Supersonic | WordPress | 100 GB SSD | Unmetered | $11.88 |
NameCheap offer packages optimized for WordPress CMS. With any of these packages, your WordPress website will perform 3 times faster than usual.
The NameCheap's WordPress plans are built on top of the NameCheap cloud, avoiding any possibility of downtown.
EasyWP starter: It costs $3.88/month. This package comes with 10GB SSD storage. It can handle 50k visitors per month.
EasyWP Turbo: This package will cost you $7.88 per month. You will enjoy 50 GB SSD. Your website will handle around 200k visitors per month. With this package, you will get free SSL and CDN.
EasyWP Supersonic: This package costs $11.88/month. It includes 100GB SSD storage handling about 500k visitors per month. Additionally, it has free SSL and CDN, and the resources allocated are 2 times.
Reseller hosting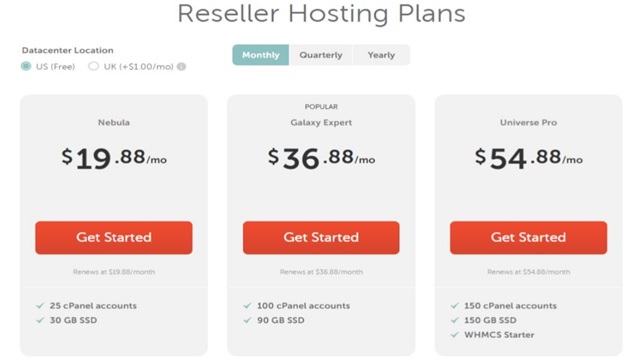 If you are handling multiple accounts for clients or want to start a hosting company, this plan option might suit you.
NameCheap has 3 packages for this plan.
Nebula: this plan costs $19.88/month if you purchase annually. You get a WHM account, 25 c-Panel accounts and a 30 GB disk space.
Galaxy expert: It costs $36.88/month if purchased yearly. You get a WHM account, and a 90 GB disk space.
Universe pro: you will pay 54.88/month if purchased yearly. You get a WHM account, a free WHCMS starter plan, and 150 GB of disk space.
VPS plans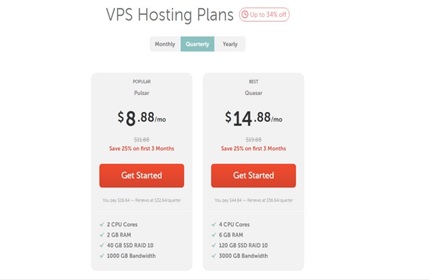 For those who want to host a medium-sized e-commerce store or a resource-intensive site NameCheap has two VPS plans for you.
Pulsar: This costs $140.88 yearly. You get 2 GB RAM, 2 CPU cores, 40GB storage, and 1000GB bandwidth.
Quasar: This package costs $235.88. You get 4 CPU cores, 6 GB RAM, 120 GB storage, and 3000 GB bandwidth.
Dedicated server

With NameCheap, you will get multiple dedicated hosting options. Each of the plans comes with a 100% uptime guarantee.
Xeon E3-1240 v3: it costs $556.88 yearly. It includes a 3.4 GHz- chocked 4-core CPU, 8 GB DDR3 RAM, and 1TB HDD storage.
Xeon E-2136: this package costs $968.88.You get 3.3 GHz- chocked 6-core CPU, 32 GB DDR3 RAM, and 2x 480 GB storage.
Dual Xeon Silver 4208: it will cost you $2214.88 yearly. You will get a 2.1 GHz-clocked dual 8-core CPU, 32 GB DDR4 RAM, and 2x1TB NVMe storage.
Pros of using NameCheap hosting
Free domain and migration
If you have an existing cPanel and decide to move, NameCheap will offer you free migration. The steps involved are simple and straightforward.
You will only be required to provide access to NameCheap web hosting technicians in your cPanel, and in less than 15 minutes, your website will be live again.
If your website is downtime for more than 15 minutes, you are entitled to free hosting equal to your purchase.
When you sign up for NameCheap web hosting, you get a free domain for the first year only. After that, you pay for the renewal of your domain.
Good uptime
When you're choosing a website host, it would be beneficial if you consider the uptime that the provider delivers.
With NameCheap, you enjoy impressive uptime guarantees depending on the account plan. For reseller and VPS accounts, you are guaranteed of a 99.9% uptime.
On the other hand, for its shared, business and dedicated server accounts, you are backed by a 100% uptime guarantee.
If you are impacted by any downtime any month, you become eligible for partial refunds.
Load time
According to Google, the probability of visitors bouncing your website increases over 100%, if your web page takes up to 6 seconds to load. Your website needs to have a reasonable loading speed to deliver a quality user experience.
On average, Namecheap load speed is 405ms, which is the best.
30-day money-back guarantee
You get a 30-day money-back guarantee when you sign up for NameCheap hosting. If you are not satisfied with their services within 30-days, you can apply for a refund.
From our experience, 30 days is enough time to judge a hosting.
Fully-loaded value plan
Each plan on NameCheap hosting has excellent features compared to its low pricing. You will enjoy standard features for a low price compared to other host providers for a similar price.
Around the clock support
Before you settle for any shared hosting, you should check how available their support team is. At NameCheap, you will enjoy 24/7 support assistance. You can get in touch with their support team on live chat, or submit ticket button on your cPanel account.
Besides, they have a knowledge-base full of video tutorials, articles and answers to all questions relating to web hosting.
Security
NameCheap offers SSL/TLS certificates and Malware scanning across all its hosting Plans. It includes 50 Comodo positive SSL certificates for every hosting package.
Cons of using NameCheap hosting
Limited datacenters
In terms of hosting locations, NameCheap has only two data centers compared to other web hosting companies. They have a data centres in the US, and another in the UK.
It would be great if customers have more data centers to choose from.
Limited customer support
Though their ticket system is effective, it takes them some time to reply. Besides, there is no contact phone for customer support on their website.
NameCheap Hosting FAQs
Are you on the fence about NameCheap or thinking about signing up with them? Here are some common questions that people ask about the service.
Can you host multiple websites through NameCheap?
Yes, you can. However, you are capped on disk space and databases. You will need to upgrade to higher plan for more data storage.
Are there hidden costs?
No. NameCheap is upfront with its pricing and costs. You will not find any charges than were not shown before you signed up.
Where are data centers located?
NameCheap have numerous locations in North America: Dallas, phoenix, and Atlanta. They have headquarters in Los Angeles. If you are outside the US, you use their UK and Europe data centers.
Does NameCheap have its own control panel?
No, NameCheap utilizes cPanel for managing your website.
Our verdict
Do we recommend NameCheap? Without a shade of doubt, we do. However, we would recommend NameCheap to those who own several small websites and are on a small budget. With NameCheap, you will get the cheapest shared hosting with incredible features. We hope this review based on our experience, will give you a chance to make a decision.
ALSO READ: