Are there some distracting websites that reduce your work efficiency? Have you ever found your kid watching YouTube videos or viewing some inappropriate (such as porn, gambling, or violence) websites when he or she was supposed to get homework done?
When we use a Mac for work or school, distractions keep preventing us from being concentrated. One big source of distractions is distracting websites.
Blocking certain websites helps you or your children focus on work or study when using a Mac and also helps keep your children away from bad websites.
This article will show you how to easily block access to websites on a Mac computer. Effortlessly block social media sites, video sites, gaming sites, and other distracting sites and focus on your goals.
Method 1: Enable Parental Controls or Screen Time on Mac
Parental Control is a built-in feature in macOS Mojave or earlier. Screen Time is in macOS Catalina or later. Both features can help if you are looking to know how to block websites on a Mac. You can find the feature in Mac's System Preferences.
This Apple's built-in feature enables you to:
Limit adult websites on Mac: All websites that are considered inappropriate by Apple will be blocked. But sometimes it will affect some normal websites.
Allow only certain websites on Mac: This means you can put only certain websites that you think appropriate to the whitelist and restrict all others.
Limit access to certain websites: You are able to enter the URL of specific websites you want to block manually.
However, the parental controls on Mac only work on non-administrator accounts.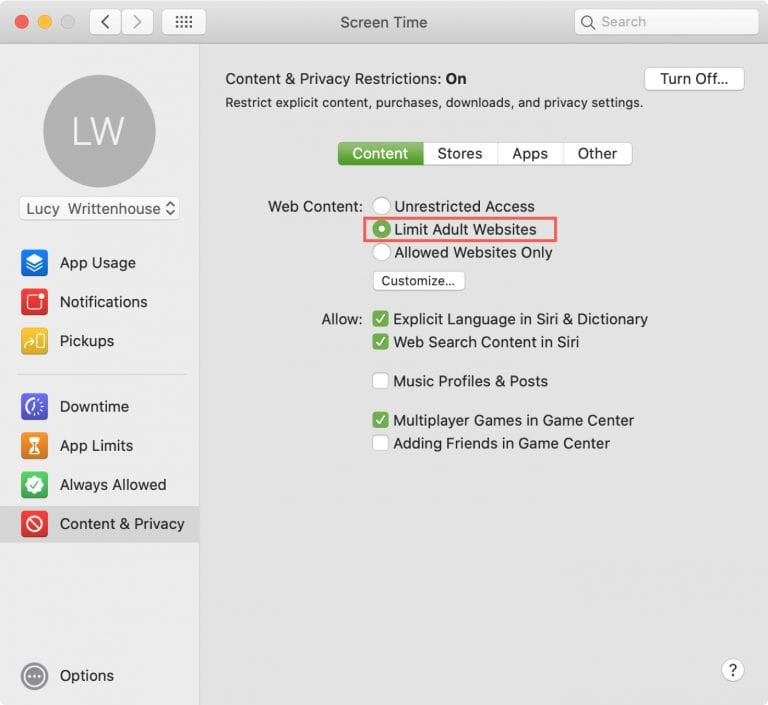 Method 2: Add Extensions on Browsers to Block Websites on Your Mac
Extensions can add additional features to the browsers. Helping us to do some desired activities, including block websites.
BlockSite: This extension enables you to set daily schedules on certain websites. This means you can set to allow access to some websites on your Mac only during certain times. And it provides Focus Mode that helps you or your child stay focused for a period of time such as 25 minutes. During the Focus Mode, the browser will be disabled.
StayFocused: Offered by Transfusion Media, this extension is designed for increasing productivity by limiting the time users spend on attracting websites. You can set the maximum number of minutes per day that you will be allowed to access on the block list. And this tool provides allows list mode.
Some extensions can only be added to the certain web browsers. If you have multiple frequently used browsers on Mac, you'd better find different extensions to add.

Method 3: Use Professional Websites Blocker App for Mac
If you want to make your blocking more efficient and hard to bypass, installing third-party website blocker applications can be a better choice. Since they often require a password to change the settings and uninstall. And have more advanced functions.
A great website blocker for Mac called AppCrypt allows you to block websites by categories such as porn, social media, gambling, and more. It also enables you to block access to websites/webpages with a password. If you think there're too many inappropriate websites on Mac you want to block, just put certain necessary websites to the Exceptions list then enable the function of blocking all websites. The blocking will work on all the web browsers on your Mac. Compared to adding extensions to each browser on the Mac one by one, this method can be more efficient.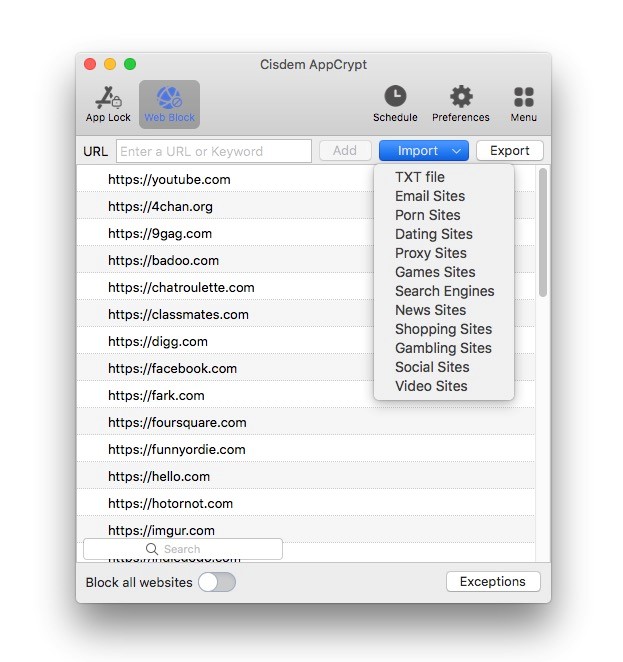 Distractions Blocked & Productivity Boosted
You can easily block websites on Mac in a few easy steps using the methods in this post. Although Apple has built-in features helps you block websites on Mac, I recommend third-party applications for more powerful and advanced features.
Once the distracting websites are blocked and not accessible on your Mac, you can better focus on what you are supposed to do. You can make the most of your time and get more work done. You will say goodbye to digital distractions and hello to productivity.